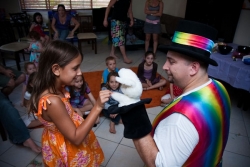 I am happy to announce that I can now offer a free voucher to the Balloon Kings party shop on the Gold Coast when you book your magic birthday party show.
The Balloon Kings operate the funkiest party shop on the coast and have everything you need to make any occasion special. All you need to do is book your Awesome Adam magic birthday show and I will send you a voucher with your confirmation email.
I have worked alongside the guys at Balloon Kings for a number of years entertaining children and performing magic, this relationship has enabled me to bring you this offer.
This special offer is a way for me to say thank you for booking your Awesome Adam show and to give you something to help make the day extra special.
So please call me now on 0412 047 557, or fill in my contact form here, to find out how I can help celebrate your child's birthday.