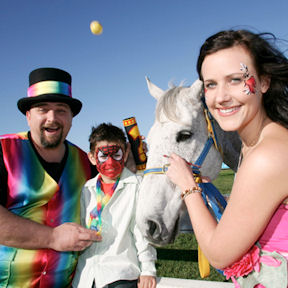 I have just been emailed a copy of one of the photos from the promo shoot that I was involved with. The shoot was for the Rate Payers Family Fun Day at the Gold Coast Turf Club.
This photo should appear in tomorrows edition of the Gold Coast Sun. The Family Race Day will be a great day for the whole family, there will be free activities for the kids from 10am to 3pm and horse racing for the big kids.
I have been asked to perform 2 magic stage shows for the kids, there will also be face painters, balloon artisits, kids fashion shows, jumping castles and other great activities.
The photo shoot was lots of fun and we got to meet one of the stewards horses up close. The yellow ball that you see above us is actually part of a new magic trick I am working on and hoping to perform in one of my magic shows.